CAYMAR LIMITED
CAYMAR LIMITED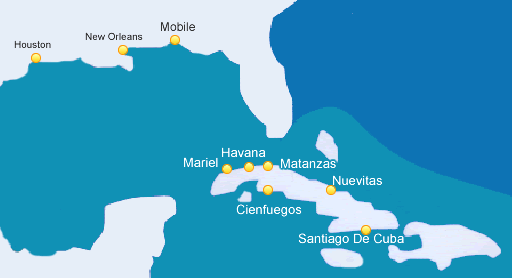 Caymar Limited specializes in the transportation of bulk commodities to Cuba as well as other Caribbean and Latin American destinations. It is a joint-venture between Marine Trading Ltd. of San Francisco, California and Caytrans Project Services (Americas) of Metaire Lousiana. In teaming together, Marine Trading
and Caytrans Project Services (Americas) bring to Caymar more than 85 years of combined trading experience in the bulk market. Caymar's clients benefit from access to direct tonnage, combined with extensive experience in bulk vessel operations.
Dan-Gulf Shipping, Inc. is the managing agents for the joint-venture and also provides agency service for the vessels calling the Mississippi River.
Additional information on Caymar's founding companies can be accessed as follows:
Marine Chartering Co., Inc.
781 Beach Street, 4th Floor
San Francisco, California 94109
USA
Tel: 415-441-3100
Fax: 415-776-5527
http://www.marinechartering.com
Dan-Gulf Shipping, Inc.
3117 7th Street, Suite 300
Metairie, Louisiana 70006
USA
Tel: 504-830-3900
Fax: 504-830-3909
http://www.dan-gulf.com